Practice Tests for Colorado Driver License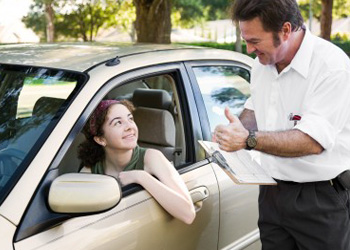 You wouldn't take a test in school without studying, right?
So why would you take your driver license test without studying? To pass your Colorado driver license test, you will need to make the driver's handbook your best friend.
Of course, it doesn't hurt to also get some exposure to the types of questions that are asked on the road rules and road signs test. This is where most teens mess up. The best way to remember the answers to complex traffic questions is to study them before you go to the driver license office.
Right now, DTA is offering an excellent Colorado driver license practice test for a great price on our website.
Different Test Versions Available
50 question test – Study the 50-question test to get a very good overview of the kinds of questions you'll be asked on your Colorado driver license test (road rules and road signs).
100 question test – For a wider variety of questions, pay a few dollars more and get the 100-question version of the practice test. There is less repetition of questions on this test, so you will have even better exposure to the types of questions that you will be asked on your driver license exam.
Unlimited testing – Both the 50-question practice test and the 100-question practice test include unlimited attempts. Study as much as you want to until you feel ready to go to the DMV and take your real driver license test.
Standard, Motorcycle, or CDL – Choose the standard test for non-commercial vehicles (cars and trucks), the motorcycle test, or the commercial / CDL test for large vehicles (buses, semis, etc.).
The Colorado Driver's Handbook Is Crucial

You can't pass your road signs and road rules test without reading the Colorado driver's handbook and carefully studying all of the diagrams inside. (When you click on the link to the handbook, please be patient. The handbook can take several minutes to load.)
The Colorado driver's handbook will not only teach you the many road signs you will encounter on Colorado highways, but also important tips and strategies for driving at night, driving in snow and bad weather conditions, driving on dangerous mountain roads, and much more.
The online Colorado driver license practice test is provided by I Drive Safely® in partnership with Driver Training Associates.
Rely on DTA for your defensive driving and driver ed course needs. We've been helping drivers improve their skills and knowledge since 1977.