DTA's Affiliate Program
Traffic School – An Excellent Income Opportunity
DTA's network of online and classroom affiliates is one of the largest in the nation, earning us a reputation for quality, reliability, and value. Our affiliates range from Fortune 500 corporations such as Baker Hughes and Exxon Mobil to small "mom and pop" traffic schools in numerous states.
As a DTA affiliate, you operate your own business and license the DTA courses you want to offer. You collect the course fees from your students and we receive a royalty fee or commission for each student who completes one of our courses.
Whether you choose to start your own classroom traffic school, online traffic school, or both, becoming a DTA affiliate will provide you with excellent opportunities to make money.
Online Courses
If you have your own website and would like to offer our online traffic safety courses, DTA can provide you with referral links.
Our Internet-based traffic safety courses offer the following advantages:
High commissions (40-50% on average)
Secure registration and payment
DMV / court approved
More video, less reading
24 / 7 course access
Simple navigation
Easy to understand
Rush delivery and e-mailed certificates
US based customer support by phone and e-mail
All customer service handled by DTA
Professional products
Starting in 2001, we were one of the first companies to offer traffic school over the Internet, and we have one of the longest running online affiliate programs in the industry. We will work closely with you to help make your online traffic school business a success!
Classroom Courses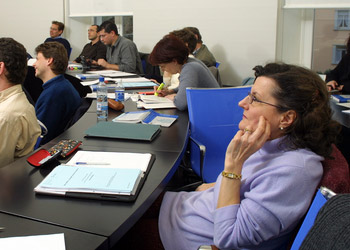 If you've been shopping around for a classroom defensive driving provider, you've probably found that most companies charge their agencies annual fees, franchise fees, and other unnecessary fees.
Not DTA! We make it extremely easy and inexpensive for agencies to offer our classroom programs. Cost centers for using our courses generally fall into three categories: training expenses, DVD lease fees, and royalties.
Training expenses – DTA classroom agencies receive training from certified DTA staff. In most states, the DMV requires a certain number of pre-service and / or in-service training hours for each instructor.
DVD Lease Fees – While most DTA courses require the use of a DVD, we minimize the number of training materials used and do not charge large fees for workbooks or other unnecessary items. A one-time lease fee covers the DVD for as long as you teach the DTA course.
Royalties – Because of our volume, DTA is able to offer some of the lowest royalty rates in the industry. New customers constantly call us to ask, "What's the catch?" There is no catch, we simply do not overcharge for our products and services!
Request a Startup Kit
If you would like to learn more about our programs, contact DTA to request a startup kit. One of our friendly customer service representatives will answer your questions about how you can become a reseller of DTA's courses.