Traffic Violator School – Dismissing Your Ticket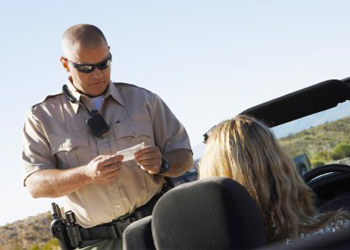 Don't let a Kings County traffic citation ruin your day. Yes, that ticket is going to be expensive, and your insurance rate is likely to increase if points are assessed on your California driving record. However, many drivers can go to traffic school to get their ticket dismissed. And if you are eligible to attend traffic school, you can attend it ONLINE.
The Internet California traffic violator school course is a great way to learn safe driving strategies from the comfort of your home, office, school, or wherever you have an Internet connection. This court approved alternative to traditional classroom courses, long-winded booklet courses, and tedious DVD courses is the most popular traffic school option available today.
Kings Traffic School Online
Kings County traffic school online is an 8-hour course that teaches defensive driving strategy, how to maintain the proper attitude for safe driving, and California traffic law. The online version of the course brings these topics to life through video, eyecatching graphics, and colorful animations.
The main benefit of going to traffic violator school is that points will stay off your record for that Kings County ticket. Too many points can lead to a suspended license. Furthermore, your insurance company will not see the points on your record, so your policy is less likely to increase.
Does the Kings County Court Recognize This Course?
Absolutely, the course that we offer here was developed by I Drive Safely®, a national company that has trained millions of individuals to be safer drivers. Their course is accepted by the majority of California courts, including Kings County.
This course is approved for all of the following courts and divisions:
Avenal Division
Corcoran Division
Lemoore Division
Main Courthouse
Federal / U.S. District Court
Letting the Court Know You Plan to Attend
Kings County Superior Court will not mail you a courtesy notice reminding you of your traffic school options. When you sign your traffic citation, you are indicating that you intend to comply with the information written below your signature.
We recommend that you select the traffic school option if it is available to you. To find out if you are allowed to attend traffic school, contact the Kings County court in person or by phone. The automated information system will help you determine your eligibility to attend traffic violator school and will allow you to pay your fine and traffic school fee over the phone.
The telephone number for the automated information system is (559) 582-1010, extension 3059 or 3062.
The court fee for attending traffic school is $64.00. This fee is non-refundable and it is NOT the same fee that you pay your traffic school. (To see DTA's fee for the online traffic violator course, scroll to the top of this page.)
You may also visit any court location in Kings County or the Traffic School window in the Criminal Division at 1426 South Drive Bldg A, Hanford CA 93230 to announce your intention of going to traffic violator school. The court's office hours are Monday through Friday from 8:00 a.m. to 5:00 p.m.
If you fail to comply with the requirements of the court, for example if you announce your intention to complete traffic school and then fail to attend, you will face serious repercussions. Some possible outcomes include an increase in your fine amount or bail, placement of a hold on your license, issuance of a warrant, and / or imposition of a $300.00 civil assessment and referral to a collection agency.
How Do I Know if I Can Take This Course?
This course is approved for Kings County, but it is up to the court to determine whether you are eligible to attend. All California courts prohibit a person from going to traffic school if they have attended a traffic school course within the previous 18 months before receiving their current citation or if they hold a commercial driver's license. Other requirements are listed below.
Your infraction must be a moving violation (not misdemeanor charge);
Your infraction must not require a mandatory appearance in court;
You must have a valid driver's license at the time you were cited;
Your citation must not be for Vehicle Code sections 22406.5 (tank vehicle violations) or 21655.5 (HOV lane violations).
Visit the Kings County traffic page for complete traffic violator school eligibility guidelines.