California Driver Education Online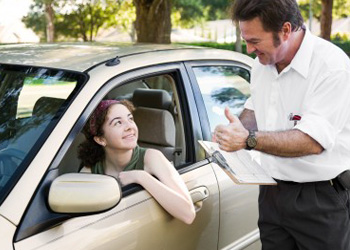 All California teens are required to complete a 30-hour driver education course before they can receive a learner's permit. Since many California schools don't currently offer a driver ed program, the online option offered by DTA has become a very popular choice for California teen soon-to-be-drivers.
This award winning Internet driver ed program was developed by professional traffic safety instructors with teens in mind. It's not just a boring rehash of the driver's handbook, or a series of gory videos like the ones many adult drivers remember from their driver ed days.
FREE Bonus ( $9.95 Value)
As a bonus, if you sign up for your California driver ed course today on our website, you'll receive a FREE 50-question driver license practice test. Feel more confident taking your driver license road signs and road rules test knowing you've studied the material thoroughly.

The online California driver ed course and the driver license practice test are offered by DTA in partnership with I Drive Safely®.
The practice test will help you prepare for your real driver license exam, but remember that you will still need to study the California driver's handbook. This test will NOT prepare you for your behind-the-wheel driving exam.
Parents Can Also Benefit from California Driver Ed Course
The CA driver ed course includes a guide for parents to help teach their teenagers how to drive. We firmly believe that it is the parent's responsibility to make sure their teen is ready for the road.
While selecting the best driver ed course available is a great first step, you should spend time actually riding with your teen, listening to his or her questions, observing his or her driving, and being a patient, helpful teacher. Also, model good driving behavior when you are behind the wheel so that your young driver will be more likely to emulate that behavior.
The State of California requires that a student be at least 15 years, 6 months old to complete this driver education course.