Traffic School Online for a Lassen County Ticket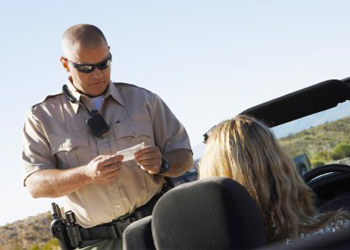 Getting a speeding ticket, a ticket for red light running, or any other type of moving violation in Lassen County can be expensive. In addition to the fee (or "bail") you will have to pay for your citation, you will probably be faced with an insurance increase once your insurer finds out that you were cited.
Like most California counties, Lassen County provides the option for traffic school to many drivers. This option allows your ticket points to be "masked" on your driving record so that it is not available for public view. That includes insurance companies.
Ordinarily, to exercise your option to attend traffic school, you simply need to indicate your desire on the courtesy notice you receive from the Lassen County Superior Court, and pay the additional fee for traffic school attendance.
How to Select the Traffic School That's Right for You
Picking a traffic school is not easy, since you won't know what you're getting until you begin your course. Many comedy schools advertise a funny curriculum, but in actuality they deliver the same stale jokes you've heard a dozen times before.
If you really want to learn something from your course and not just waste 8 hours in a classroom, we recommend the online driver improvement course. This course was written by I Drive Safely® and is approved for nearly every court in California. Here are some features that make this course stand out from the rest.
High quality video used to illustrate key points
No recycled driver's handbook material
Simple, clear writing style
Available in English or Spanish
U.S. based customer support
Express certificate delivery available
Lassen Traffic School Online
So online California traffic school sounds right for you, but you don't know if you can attend. The courtesy notice you receive from the court will usually inform you as to whether you are permitted to go to traffic school. The primary requirement is that you must not have already gone to traffic school for any previous violation within the past 18 months (calculated from the date of the citation, not the date of course attendance).
Here are some other eligibility requirements.
You must have no more than two prior convictions within the last 18 months;
You must not possess a commercial motor vehicle license;
You must have a violation that is eligible
What if I Have a Mechanical Violation?
In Lassen County, if you have a violation that involves your driver's license, insurance, vehicle registration, or mechanical issue (such as faulty equipment), you may submit proof of correction to the court to have your ticket dismissed.
For equipment violations, you can get proof of correction by having a law enforcement officer sign off on your copy of the ticket after your problem has been fixed. You can get a clerk at the court to sign off on your insurance violation. For driver license and registration violations, you can have a DMV official certify your proof of correction or obtain this certification at the court. A $10.00 processing fee must be paid at the time proof of correction is presented to the court, whether by mail or in person.
Visit the Lassen County court website to learn more about traffic ticket payment, California traffic school attendance, entering a plea to the court, and the consequences of failure to appear.