New York Defensive Driving Online
About Your New York IPIRP Course Certificate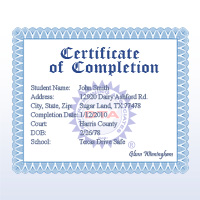 Completion of this Internet Point Insurance Reduction Program (IPIRP) will result in the issuance of an official certificate of completion.
We offer standard delivery of your IPIRP course completion certificate via USPS (absolutely FREE) or express shipping at extremely low rates.
You will see all available shipping options during course registration and after you pass your final exam. You can also call 1-800-558-9887 to request expedited shipment.
Certificates are processed at 4:00 PM EST on each business day (Monday-Friday). Completions on weekends, holidays, or after 4:00 PM on a business day are processed the following business day.
What To Do with Your New York Defensive Driving Certificate
After you successfully complete the New York defensive driving online course, you will receive a completion certificate to turn in to your auto insurance provider. Once this certificate is received and processed, a 10% discount will be applied to your New York auto insurance premium. The certificate is accepted by all auto insurers statewide because our course is a DMV approved Point Insurance Reduction Program.
Your auto insurance reduction will stay in effect for three years and can be renewed after the initial 3-year period has expired. The insurance reduction will be applied to your liability, collision, and no-fault insurance premiums.
To learn more, please read our New York Defensive Driving Course FAQ.
Completion Reported Automatically to DMV
You will not need to turn your certificate in to the DMV. Once you have finished your New York point insurance reduction course, DTA will notify the DMV of your course completion. A notice will be entered on your driving record, and the DMV computer will automatically reduce your active point total by up to four points.
To learn more, please read our New York Defensive Driving Course FAQ.