Florida Advanced Driver Improvement Online
Advanced Driver Improvement Course Details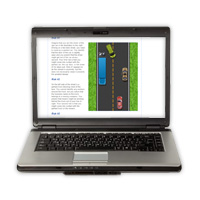 Driver Training Associates proudly offers Florida's top Internet Advanced Driver Improvement program, offering FREE delivery of your course enrollment letter AND completion certificate.
This 12-hour class is approved by the State of Florida for drivers with a suspended or revoked license, Habitual Traffic Offenders, drivers who have been court ordered to attend ADI, drivers who have been ordered to attend a "3 Crashes in 3 Years" course, and drivers with out-of-state tickets who have received a letter from Tallahassee informing them that they are required to complete an ADI program.
A Better Online ADI Course
Sign up for the online ADI course that is not dull reading and boring statistics. Take a look at what our online ADI course has to offer:
Fully approved by the Florida DHSMV
Enrollment letter FREE and delivered immediately upon completion of registration
FREE electronic delivery of completion certificate
100% Internet course
No lecture or workbook
U.S. based customer support
Complete the course on your schedule, logging in and out whenever you want to (mandatory 24-hour break required after first 6 hours)
Log in and out of the course unlimited times
Hassle-free format that even novice computer users will be comfortable with
Simple language that's easy to read and understand
Videos and exercises keep your mind focused on the material
Online Advanced Driver Improvement Course Description
The course teaches you to identify areas where personal habits and behavior have led to taking risks behind the wheel and other negative consequences (such as costly tickets and fees). Much of the online course consists of reading, with short answer questions scattered throughout each unit, but our course contains more video than any other ADI course on the market. The course also contains colorful graphics and cartoons that make learning easier. There is a final exam at the end that is graded by an ADI instructor.
Since multiple breaks are built into the course, the actual time spent on course content is roughly 10.5 hours. At the end of the first six hours, you will be required to wait 24 hours. After that, you can resume your course activity and continue until you are finished. (This is a requirement for all online ADI courses.)
You can break your study time up into many sessions by simply logging in and out of the course. The course will keep track of which sections you have completed so that you don't repeat any course work.
Advantages of Taking Advanced Driver Improvement Online
Online ADI can be taken on your own schedule, in the privacy of your home or office, or anywhere you have an Internet connection. This is a great alternative for anyone who doesn't like sitting in a classroom for extended periods of time, who doesn't want to spend money on gas driving to a traffic school, or who prefers independent study over a group setting.