Florida Drug and Alcohol Course Online
Florida Drug and Alcohol Course Details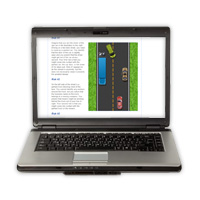 Driver Training Associates is proud to offer Florida's best online learner permit course. This 4-hour TLSAE course is fully approved by the State of Florida.
With videos, animations, and writing that will keep you engaged, this is the course most Florida teens prefer. We know you will too!
Packed with Great Features
The Florida online drug and alcohol / learner's permit course takes about four hours to complete and includes the following features:
Fully approved by the Florida DHSMV
Completely online
No lecture or workbook
Video and cartoons, not all reading like other courses
FREE U.S. based customer support
Complete the course on your schedule, logging in and out whenever you want to
(24 / 7 availability)
Log in and out of the course unlimited times
Hassle-free format that even novice computer users will be comfortable with
Simple language that's easy to read and understand
Engaging videos and course material that's NOT recycled from the driver's handbook
Online Learner's Permit Course Designed for Teens
Florida teens don't want to have to sit in a classroom or spend countless hours reading an all-text course. Fortunately, now they don't have to! DTA's Florida online drug and alcohol class contains fewer statistics, more video, and best of all, it's 100% on the Internet.
Our groundbreaking first time driver program introduces students to the three Attitude States that every driver has – Parent, Adult, and Child. DTA's course is the only one that teaches teen drivers how to control their Attitude States in order to avoid the dangers of drinking after using drugs or alcohol. By remaining in their Adult, Florida teen drivers can learn to avoid just about any type of traffic hazard.
Don't waste your time and money on a Florida online learner permit course that's boring and outdated. Take a course that will actually teach you something useful and helpful. Sign up and we're sure you'll agree that this is the best Florida learners permit course anywhere.
Note: The Florida drug and alcohol course is also sometimes known as the DATE, DATA, or START course.