Florida Traffic School Online
Get Your Certificate Immediately!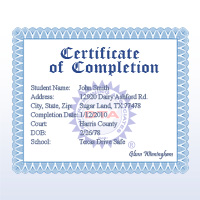 If you are in a hurry and need to meet a court deadline fast, the quickest way to get your Florida traffic school course certificate of completion is by electronic delivery. You can select this option during registration or at the end of the course.
E-cert delivery is available for a small fee that you will see when you register. If you select this delivery option, you will be able to download your certificate away after you pass the last unit quiz and confirm your delivery options. What could be more convenient?
Express Delivery Also Available
We offer FREE standard delivery of your certificate via USPS or express shipping at extremely low rates.
You can select an express delivery option when you register for the course, after you have successfully completed the course, or by calling 1-800-558-9887 to request this service.
What To Do with Your BDI Course Certificate
When you receive your Florida BDI course certificate, you should make a copy to keep for your records. You can turn the original in to the clerk of the court in the county that issued your citation.
Please be aware that although DTA reports student completions to many Florida counties, it is YOUR responsibility to make sure the county receives your original completion certificate. If the clerk of the court does not receive your certificate, they will report you as a "non-complete" to the State and your driver license will be suspended.
Reporting Your Florida Traffic School Completion
DTA will report your course completion automatically to the Florida DHSMV regardless of whether you elected to attend traffic school, were court ordered, or completed the course for TCAC. Remember, if you elected to attend basic driver improvement or you were court ordered, you will need to turn your completion certificate in to the court.
You can visit the DHSMV Traffic School Completion Check page to make sure your completion is in the State's database. If your completion has been reported successfully, you will see a record of it on the results page.