Florida Traffic School Online
Traffic School in Florida Details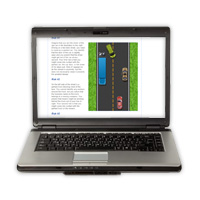 Driver Training Associates is proud to offer Florida's best online basic driver improvement course.
This innovative 4-hour DHSMV approved program is designed to keep you focused on the material through the use of videos, animations, and writing that won't put you to sleep.
Most students prefer this format to an all-text course or a classroom lecture and we're sure you will too!
About the Online Traffic School in Florida Course
The traffic school in Florida online course takes about four hours to complete and includes the following features:
Fully approved by the State of Florida (DHSMV)
No points on driving record (§318.14[9], F.S.)
Prevents insurance rate from increasing as long as driver did not cause a crash (§626.9541, F.S.)
Maintains safe driver status
100% online, no driving to a classroom site
FREE U.S. based customer support
Complete the course on your schedule, logging in and out whenever you want to (24 / 7 availability)
Log in and out of the course unlimited times
Hassle-free format that even novice computer users will be comfortable with
Simple language that's easy to read and understand
Engaging videos and course material that's NOT recycled from the driver's handbook
What Makes Our Traffic School in Florida Stand Apart
Why sit in a classroom or get stuck reading a course that's ALL text when you have better options? DTA's Florida defensive driving course presents a straightforward approach to driver improvement without the useless repetition of statistics. We teach you how to drive more defensively by recognizing and changing risky driving behaviors, using concrete examples anyone can relate to.
We do this by introducing you to the three Attitude States that every driver has – Parent, Adult, and Child. Through videos and examples of various types of common traffic crashes, we explain how you can control your Parent and Child Attitude States while driving. By remaining in your Adult, you can learn to avoid just about any type of traffic hazard.
Don't waste your time and money on a boring Florida driver improvement course that will have you watching the clock. Take a course that will actually teach you something useful and helpful. Sign up today and we're sure you'll agree that this is the best online traffic school in Florida available.